Department of Resources and Environmental Engineering / Department of Earth Sciences,Resources and Environmental Engineering
(CSE Graduate School)
FUTURE
Direction of studies
Undergraduate and graduate students of this department are active in a wide variety of fields, including metals, ceramics, petroleum, mining, machinery, electricity, chemistry, and food, as well as communications, construction, and trading companies, and government agencies, administrative institutions, and transportation. About 70% of undergraduates go on to graduate school, and many students who complete the master's program enter employment with oil and energy related companies, with an increasing number recently entering companies that are related to the environment or recycling.
Pathways taken by graduates of the undergraduate division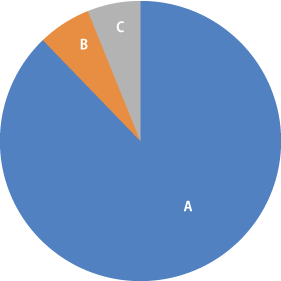 | | |
| --- | --- |
| A: Continued education | 87.8% |
| B: Jobs | 6.1% |
| C: Others | 6.1% |
Pathways taken by graduates of the master's progam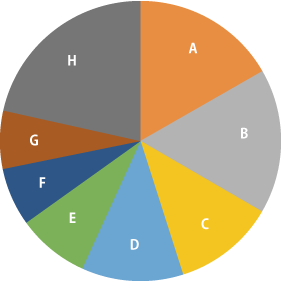 | | |
| --- | --- |
| A: Oil and energy | 16.7% |
| B: Information and communications | 16.7% |
| C: Construction, architecture, and building materials | 11.7% |
| D: Machinery and engineering | 11.7% |
| E: Chemical, food, and pharmaceutical industry | 8.3% |
| F: Electrical equipment | 6.7% |
| G: Trading companies and consulting | 6.7% |
| H: Others | 21.5% |
Employment of graduates
CENTRAL ENGINEERING Co.,Ltd, C.E.Management Integrated Laboratory Co.,Ltd., NEC Corporation, MITSUBISHI SPACE SOFTWARE CO.,LTD.,Tokyo Metropolitan Government
AIRTECH JAPAN,LTD., Astomos Energy Corporation, TOKYO BOARD INDUSTRIES CO., LTD., Meiko Network Japan Co., Ltd., Mitsubishi Materials Corporation, TOHO ZINC CO., LTD., Sumitomo Metal Mining Co., Ltd., JFE Engineering Corporation, DOWA HOLDINGS Co., Ltd, MITSUI MINING & SMELTING CO.,LTD., Accenture PLC, Kokusai Kogyo Co., Ltd., OYO Corporation., Honda Motor Co., Ltd., The Japan Research Institute, Limited, Nomura Research Institute, Ltd., JBS Technology,Inc., LEVERAGES CAREER CO., LTD., JX NIPPON INFORMATION TECHNOLOGY CO.,LTD., Hitachi Systems, Ltd., Nihon Suido Consultants Co., Ltd., AGS Corporation, Hitachi Power Solutions Co.,Ltd., Hitachi, Ltd., FUJITSU LIMITED, Panasonic Corporation, INPEX CORPORATION, JX Nippon Oil & Gas Exploration Corporation, ITOCHU Oil Exploration Co., Ltd., Japan Oil, Gas and Metals National Corporation, MODEC, INC., TAISEI CORPORATION, Toyota Motor Corporation, East Japan Railway Company, Hitachi Chemical Company, Ltd., Shin-Etsu Chemical Co., Ltd., Tokyo Pearl, Hitachi High-Technologies Corporation, Tokyo Gas Co., Ltd., Electric Power Development Co.,Ltd., KAWASUMI LABORATORIES.INC., Ricoh Co., Ltd., AJINOMOTO AGF, INC., Nichirei Foods Inc., Teacher of Saitama prefecture, Japan Exchange Group, Inc., AENA Corporation, Fuji Xerox Co., Ltd., SMBC Nikko Securities Inc., HIKARI TSUSHIN, INC., Nuclear Waste Management Organization of Japan, City of Yokohama, Keio University, JFE Steel Corporation, Shogakukan Inc.