Study the practical science that enriches human life and society and put it into practice by combining a global perspective with a local perspective
Dean, School/Graduate School of Creative Science and Engineering
Ph.D., Professor
Department of Architecture
Takashi Ariga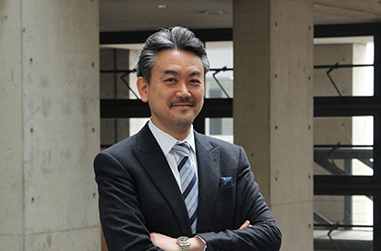 Q: Please describe characteristics of School of Creative Science and Engineering.
First of all, one of the features of Waseda University is that the university is located to the northwest of the capital. By being to the northwest of the capital, away from the former Edo Castle and the current center of politics and administration, the university dares to take a step back and see the truth of the world properly from a different perspective and in a different way of looking at it. This is the stance on learning and education that this university assumes. Pursuing what the true ideal is as an academic discipline and giving it back to society—this is the independence of learning that Shigenobu Okuma advocated when he founded the university.
The School of Creative Science and Engineering places particular importance on this way of thinking. This is because we are dealing with a specialized field that is closely linked to human life and society. We call it "practical science." It may be easier to understand if you look at the departments that make up the School of Creative Science and Engineering. The Department of Architecture is deeply involved in human life itself, not only in the creation of living environments and urban spaces, but also in research on earthquake-resistant technologies among other fields. The Department of Modern Mechanical Engineering engages in comprehensive studies of technologies for creating mechanical systems for automobiles, medical robots, and space structures. The Department of Industrial and Management Systems Engineering studies methodologies for constructing overall systems related to management and manufacturing, such as production, logistics, and communications. The Department of Civil and Environmental Engineering covers themes related to society from a broad perspective, such as environmental disaster management to protect people from earthquakes and tsunamis, social infrastructure design, and urban development. The Department of Resources and Environmental Engineering conducts research aimed at realizing a resource-recycling society and global environmental conservation, including various issues such as energy issues and environmental pollution. And the faculties in the Division of Socio-Cultural Studies are providing cross-sectional education in the School of Creative Science and Engineering. You see that all of these departments are studying how materials, products, the environment, and society affect human life and conducting researches to enrich human life. In that sense, we are conducting researches that are directly related to human beings themselves and to human culture and society.
To be truly useful to human life, we must have a profound knowledge about humans, society, and the environment.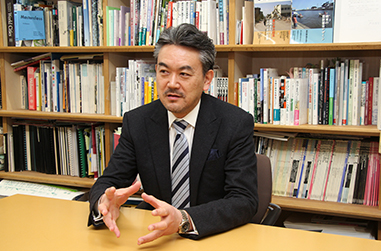 Q: Professor Ariga, I heard you are studying urban design and planning in the Department of Architecture. Is it also a practical science?
If I had to sum up my research theme in a short phrase, it would be "creating a city where people can continue to live." As we all know, we are facing a variety of problems as we enter a society with a declining birthrate, aging population, and declining population. How can we respond to the changing times and society to sustain cities that are closely related to human lives? How can we provide a truly rich living environment for people? These are major issues of urban planning. Many people may think of urban planning as a field with a very large scale. Yet, my specialty is the improvement of architecture and urban spaces in which people live, while respecting the existing way of life of the residents and the uniqueness of the community. The main theme is to conduct research and practice urban development for this purpose. In particular, for the past decade, I have been focusing on the theme of the shape and structure of cities that can sustain themselves in an age of declining and aging populations, from the perspective of planning and design. In line with these themes, I am also conducting research on urban development design related to urban settlements not only in Japan but also in other Asian countries, in collaboration with universities and experts from various countries.
Asian countries are prone to natural disasters, such as huge earthquakes and typhoons. In this context, Japan has a lot to learn from other Asian countries. On the other hand, I think it is also important for the research of architecture and urban planning to explore how the experience and knowledge of Japan can be materialized in other Asian cities. How can we build cities that will reduce the loss of life caused by natural disasters as much as possible? While foreseeing a declining and aging population, what kind of shape can cities maintain as a place to live? I am deepening my research on such themes and then applying my research for practical and citizen-collaborative urban development methodologies, concrete standards for urban design, and design guidelines.
Q: I suppose students who engaged in concrete and practical researches will be in great demand for employment.
Exactly. Many students in this school are receiving passionate invitations to join some companies. All the departments and specialties are receiving various job offers, and graduates are moving on to careers in a wide variety of fields. Also, many students are proceeding to higher education. More and more students are starting their careers after obtaining master's or doctoral degrees. The school offers programs that allow such students to study innovation and management, as well as study abroad, so it is a great environment for motivated students.
With students who have a sense of purpose and can produce output
Q: Considering the above characteristics of the School of Creative Science and Engineering, what kind of students would you want to see in your school?
I believe that the basic abilities of students entering the School of Creative Science and Engineering are extremely high. On top of that, I hope that they will have the willingness to become leaders, especially in Asia. Of course, it is perfectly okay to say that you want to be the leader of the world. But first of all, I want students to become leaders who face common social problems of Asia where we live and problems related to human lives and lead people toward solutions to such problems. We also want students who have the persistence to keep on challenging without opting for a quick answer, because research is something that we must continue while seeking answers that are not readily available.
Moreover, there is no single correct answer in the fields that truly enrich human life and society. Therefore, it is extremely important to have people who can properly communicate the details of their proposals to society. I would also like them to always think about how they can apply what they are learning at the university to society in the future, as well as to have a firm goal of what they need to do to reach that goal, and to improve their ability to communicate their research as outputs. In high schools, the main focus was to absorb information. It is an input. But in college, I hope that students will be able to actively produce outputs, and that they will have the ability to communicate or take action.
Q: Please give a message to aspiring students who want to be enrolled in School of Creative Science and Engineering.
As you can see in the data, Waseda University's international interactions and activities are at an extremely high level in all areas, including research and education, student exchange, and sports exchange. The university as a whole is very active, both in terms of the number of international students it accepts and the number of Japanese students who study abroad under international exchange agreements. For those of you who are aiming to study at the School of Creative Science and Engineering, I hope that you will not only focus on the entrance exams, but also look beyond the entrance exams and become global citizens in the truest sense.
We often talk and hear about globalization, but what lies behind that is that we need to have a good understanding of local matters. In other words, by saying "local," I believe that you cannot be a global citizen unless you have a good understanding of yourself, your study, and research at School of Creative Science and Engineering, as well as Japan. In that sense, I would like students to aim to become global citizens, and I would like to see students with such ambitions come to our school. Students at the School of Creative Science and Engineering lead busy lives with daily experiments and exercise assignments, while also actively taking on the challenge of studying abroad. I hope that our students will have the motivation to actively expand their horizons while using the School of Creative Science and Engineering as their base.