Mission of the School of Creative Science and Engineering
To create new scientific technology for realizing a truly affluent society from the perspective of people, life and the environment.
The aim of the School of Creative Science and Engineering is the creation of new affluence that reflects a variety of values by resolving problems faced by society through science and technology. To achieve this, five departments involved in fields of engineering that are related to the environment and social infrastructure are cooperating in development of educational and research activities. The School has also established a "Division of Socio-Cultural Studies" as the foundation of these five departments. Working to provide education required by the world's top-level engineers, classes are conducted by the Davison's liberal arts faculty who aim to foster growth of human resources of high sensitivity who are capable of both originating and receiving information.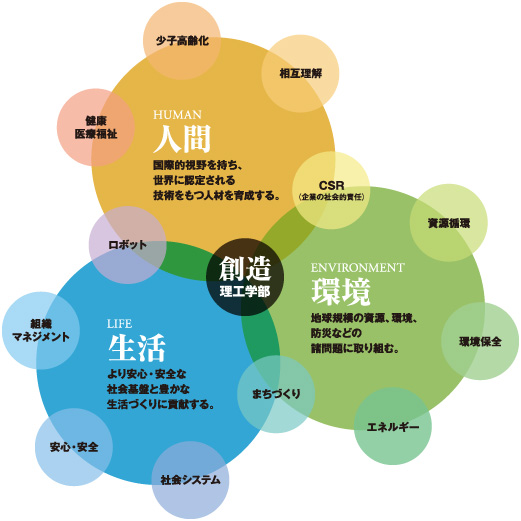 Differences between Waseda University's three science and engineering departments
Let's try to explain the differences between Waseda University's three faculties of science and engineering using da Vinci's drawing of the Vitruvian man.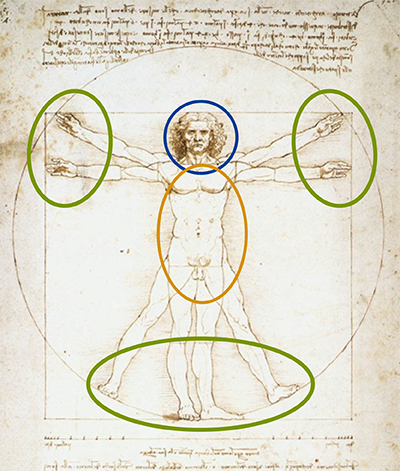 School of Fundamental Science and Engineering:
Trunk of the body (the spine) – Aims for applications founded in basic research and technology.
School of Advanced Science and Engineering:
The brain – Aims for state-of-the-art research.
School of Creative Science and Engineering:
Arms and legs – Aims for practical, goal-oriented approaches. Site-centric thinking in a wide range of fields.
The trunk is based in mathematics, which literally forms the backbone of science and engineering. "Advanced" corresponds to the brain because it means aiming for the lead. And the "creative" part is human arms and legs which encompass a wide range of fields. We regard our mission as working out how to create a social and cultural environment centered on human beings. Another of the characteristics of the School of Creative Science and Engineering is that all of the teachers have the own specific specialties, or fields. The Schools' fields encompass the range from Mt. Fuji, which symbolizes nature in general, to the cities that make up human environments.
(From an interview with the School's former dean, Haruhiko Goto)